Iberian Sustainable Mining Cluster (ISMC)
The Iberian Sustainable Mining Cluster (ISMC) has been created to halt the current decline of the mining sector in Spain, with special attention to the region of Castilla y León and the mining areas of the Province of León, in Northwest Spain. Still, the cluster aims at joining efforts and attracting relevant actors in the mining sector and its associated services all across the national territory. At local, national and European level, clusters have proved as an effective instrument to promote innovation in different sectors, particularly when they relate to regional smart specialisation strategies (RIS3).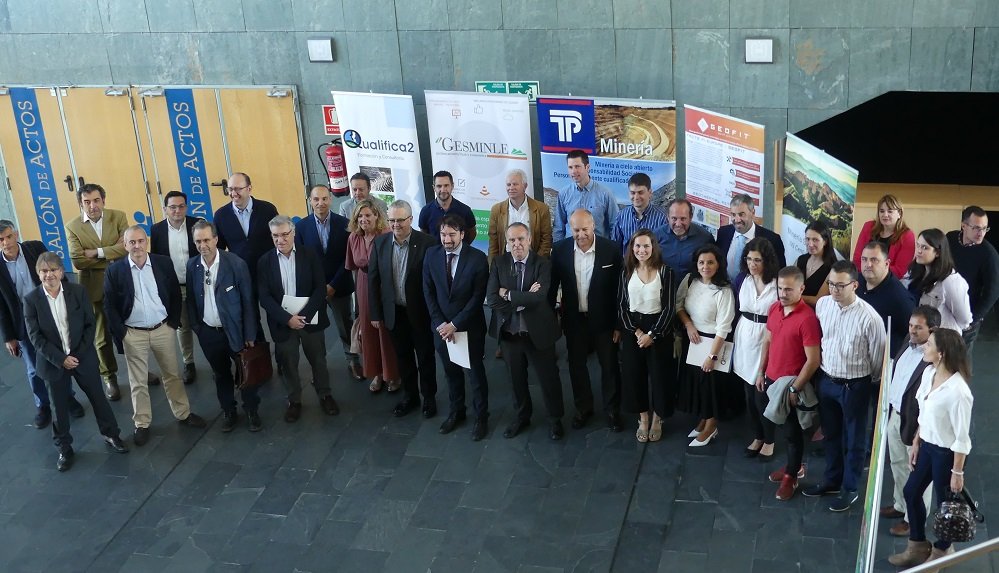 Mission and objectives
ISMC's mission as a cluster is to promote the efficient and sustainable use of mineral resources while fostering competitiveness, innovation and internationalisation among its members. Since its recent foundation in 2018, the cluster has focused on consolidating an ecosystem of relevant companies in the raw materials and mining sectors, with special attention to SMEs, by providing a catalog of services strongly oriented to creating jobs, growth and the consolidation of innovative industrial value chains.
In this regard, ISMC's main objective is to reinforce the competitiveness of Spanish mining companies in the global value chains through the use of innovative products, processes and services, with special attention to the development of a sustainable, low environmental impact mining, where natural resources are used in a smart, efficient way, in line with the principles of the circular economy.
The growing development of new technologies is proving that sustainability and environmental protection are not against, but are also a source of social and economic wealth for territories traditionally linked to the extractive industry. Successful business opportunities are being developed through the use of new advanced manufacturing techniques, information and communciation technologies (ICT), energy efficiency and circularity in the raw materials and mining sectors. These objectives are also in line with the EU Raw Materials Initiative (RMI), whose three pillars aim to ensure:
Fair and sustainable supply of raw materials from global markets;
Sustainable supply of raw materials within the EU;
Resource efficiency and supply of 'secondary raw materials' through recycling.
To this end, ICAMCyL fostered the creation of the ISMC to bring together relevant enterprises, SMEs, research centers, universities and other collaborating entities in Spain with the following specific objectives:
Reinforce the Spanish sustainable mining sector and its associated services as a source of economic growth, social wellbeing and regional development.
Promote growth and competitiveness among its members, improving their capacities and creating competitive advantages at EU level and at global level.
Foster intersectoral and interregional cooperation and synergies at value chain level.
Attract new business opportunities by developing a common portfolio of services and innovative solutions.
Facilitate the adoption of new technologies oriented to sustainability and circularity of processes, products and services.
Influence the development of an harmonised, consistent, stable and predictable EU legislation for extractive activities.
Position the Spanish mining and associated services at the forefront of the sector in the EU, taking part in the main forums and decision-making institutions.
The ISMC participation in international projects and platforms will be essential to become a reference at European level for the introduction of innovation and sustainability in the raw materials and mining sectors, thus developing a key role in the economic and social development of the mining territories.
Sectors involved
ISMC comprehends the entire mining value chain, from research and exploration to extraction, processing and commercialisation of raw materials, territories remediation, recycling of secondary raw materials and other related services such as management, logistics, transport and infrastructure.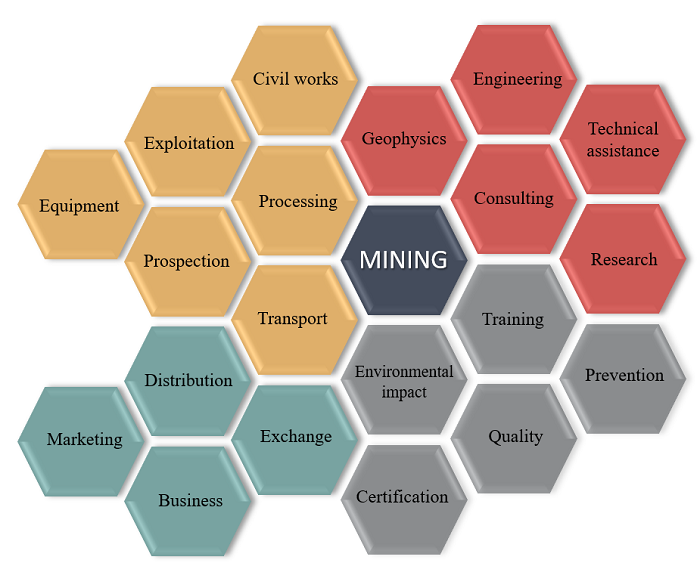 Regarding the raw materials involved, it is worth noting that our members represent a broad selection of the so-called critical raw materials (CRMs), a list of materials created by the European Comission combining raw materials of high importance to the EU economy and of high risk associated with their supply. The 2017 EU list of critical raw materials included 27 substances, 11 of which are part of the portfolio of the ISMC members, as highlighted below.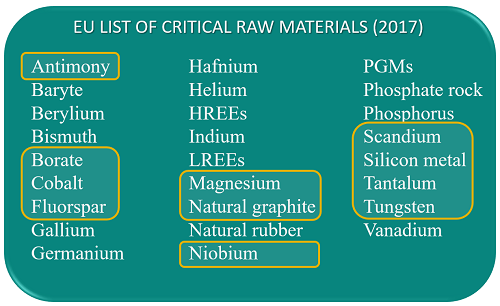 Portfolio of services
The portfolio of services offered by ISMC follows six fundamental lines of work:
Line 1. Promotion and improvement of companies' competitiveness
Technological surveillance
Innovation management
Gathering of public and private funding
Line 2. Business development
Internacionalisation
Access to new markets
Search of new business opportunities
Line 3. Cluster development
Work groups' coordination
Expansion of membership
Consolidation of strategic alliances and partnerships
Fostering colaboration among its members
Promoting intersectoral and interregional cooperation
Line 4. Communication and society
Business marketing at all levels
Organisation of B2B events
Improvement of social perception of mining activities
Training and development of new job profiles with strong knowledge base
Line 5. Sustainable mining and circular economy
Mining areas remediation
Valorisation of secondary raw materials
Promotion of new projects on sustainability and circular economy
Line 6. Modernisation of the mining industry
Incorporation of the Industry 4.0 in the mining sector
Digitalisation of extractive activities across the entire value chain
Cluster structure and impact
The cluster currently has 49 members and collaborating entities, with thirty-eight SMEs, three large companies, three technology centers, two professional associations, two universities and a regional center for enterprise competitiveness.
ISMC's industrial members account 1.233 jobs, 466 M€ annual turnover and 0,039% of Spanish GDP.

Check the list of members and collaborating entities here >
Projects and activities
The ISMC has put in place the necessary instruments in order to promote new European, national and regional projects to foster innovation and internationalisation activities among its members. One of these instruments is the creation of 6 parallel working groups:
WORK GROUP 1: International projects, technological projects and grants
WORK GROUP 2: Business opportunities for the cluster and its members
WORK GROUP 3: Technology surveillance
WORK GROUP 4: Training, health and safety in the workplace
WORK GROUP 5: Communication and marketing
WORK GROUP 6: Legislation, European regulations and certifications
These 6 work groups will work in parallel to promote growth opportunities in the raw materials and mining sectors, leading to cross-cutting social, economic and environmental benefits.
Currently, the ISMC has submitted a project proposal to the Horizon 2020 call H2020-INNOSUP-01-2018-2020: Cluster facilitated projects for new industrial value chains together with 10 other European entities, including clusters in the mining, raw materials, circular economy and sustainability sectors from Finland, Poland, France, Bulgaria, Germany and Portugal. The main objective of this proposal is to facilitate access to financing for small and medium enterprises in the mining sector so that they can move towards digitalization, circularity, resource efficiency and environmental sustainability.
List of members and collaborating entities
Asistencias Técnicas Clave S.L.
Centro Tecnológico Pinacal Inser
Colegio Oficial Ing. Minas Centro de España
Geosense
Grupo Invg. TEP222 (Univ. Jaén)
Instituto de Competitividad Empresarial
Intauxma
Leonore Development
Staub Ingeniería
Strategic Recycling & Smelting
Universidad Politécnica de Cataluña