Iberian Sustainable Mining Cluster (ISMC)
At local, national and European level it is detected the need to articulate the innovation activities in sectors of industrial interest, and in particular in relationship to the RIS3 strategies, in the form of clusters. To this end ICAMCyL has promoted the creation of the Iberian Sustainable Mining Cluster (ISMC - IBERIA MINE) with the aim of positioning the Castilla y León region as a reference at European level in the different action fields.
The creation of ISMC - IBERIA MINE will allow participating enterprises and entities:
Generate synergies with other regional, national and international clusters for mutual benefit.
Create shared technological solutions amongst the cluster members.
Develop a shared portfolio of services and innovative solutions.
Enhance the positioning of the cluster members with the corresponding benefits.
Cover the whole value chain in the development of technological innovative solutions (see Figure below of ISMC core competencies).
On the 23rd July 2018 the ISMC cluster was officially constituted by 23 enterprises and the first stone was laid for a long but exciting journey where joint efforts will be put together for R&D, international projects and business opportunities for the Mining and Raw Materials sector in Castilla y León as one of the main mining European regions, but also with a national dimension and with a entrepeneur vision in other countries. Currently almost 40 enterprises e Institutions have adhered to the cluster, with the Institutional opening event taking place on the 27th September 2018 with the presence of relevant authorities from the political and business comunities (see News).
Core competencies of ISM Cluster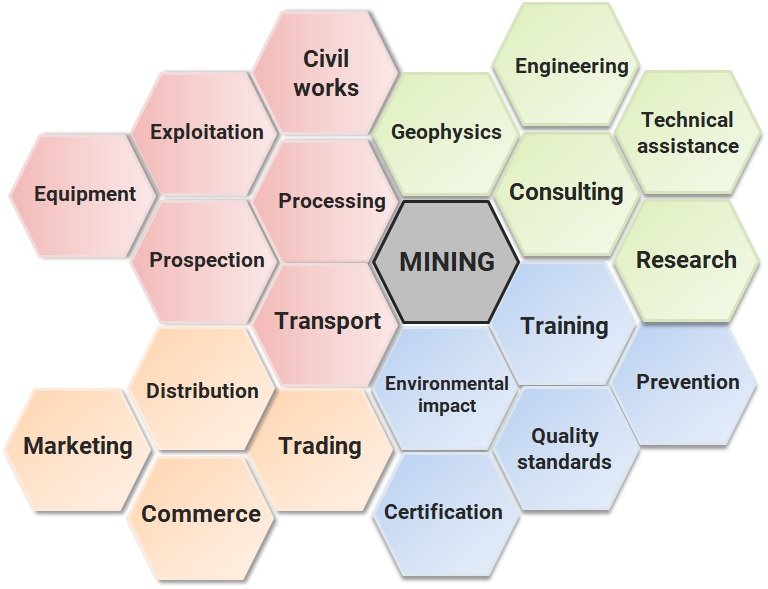 The priority lines for ISMC - IBERIA MINE during its first months will concentrate on the following aspects:
Completion of the Strategic Plan, including dinamization measures, strategic innovation actions, as well as the palnned methods, channels and activities in order to position the cluster.
Constitution of specific Working Groups to address shared projects or innovative solutions for enterprises.
Implementation of innovation, consulting, strategic monitoring and networking services amongst others.