Marie-Skłodowska-Curie Actions – Individual Fellowships 2019
Calls

/ 31-01-2019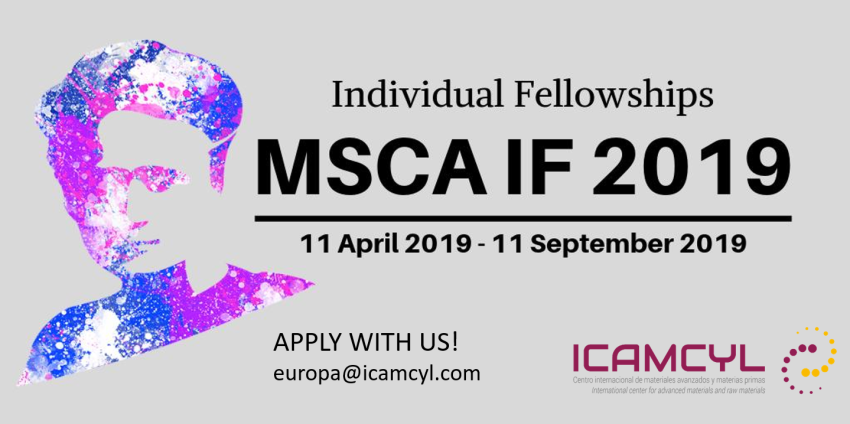 Join us applying for the 2019 Call of the Individual Marie-Skłodowska-Curie fellowships (MSCA-IF-2019)
The 2019 Call of the Individual Marie-Skłodowska-Curie fellowships (MSCA-IF-2019) is now open. ICAMCyL is looking for exceptional candidates meeting all the requirements to apply for this call. We are particularly interested in candidates experienced in the following research fields:
Integrated Computational Engineering, design and simulation of materials and processes
Sustainable mining, advanced processing techniques and raw materials valorisation
Circular economy, sustainability and resource efficiency
Advanced nanomaterials (alloys, composites, porous materials, coal-derived carbon materials) for batteries, solar power, aerospace or gas storage (CO2, CH4, H2) applications, among others
Materials Under Extreme Conditions
Additive Manufacturing and components for advanced applications
Candidates must meet the following eligibility conditions (for Standard European Fellowships (EF-ST)):
The researcher must be an experienced researcher (according to Definitions). Periods of inactivity in research (e.g. unemployment, periods of employment outside research, parental or sick leave) do not count towards the time of research experience.
The researcher may be of any nationality. No age restrictions apply.
The researcher must move or have moved from any country to the MS or AC where the beneficiary is located. The researcher cannot have resided or carried out his/her main activity (work, studies, etc.) in the country of the beneficiary for more than 12 months in the three years immediately before the call deadline.
The 2019 Call is now open. Read here all the information:
Deadline: Wednesday, September 11, 2019
If you fulfill the eligibility criteria and are interested in joining our team, don't hesitate and contact us at: europa@icamcyl.com